Peer into the world of ballroom dancing at Mandeville Ballroom Dance Studio. This is your chance to plan for private lessons, group classes, dance parties, competitions and special events and workshops!
Inside the Studio: October 2016 Edition
Welcome to October! Our Dance Showcase was a huge success! I am so proud to have the opportunity to work with all our dancers to prepare and perform. I also appreciate the efforts of all those who helped to make the showcase a success with decorations, food, etc. Thank you!  (full pictures and videos will be posted soon)
This month, we have a New Nightclub 2 Step series! Continue below to see more information about this class and other exciting dance opportunities for the month of October.
Dance Party This month will be the second Saturday, 8pm. Usual rules apply. (Arrive by 8 and it's free- all others $10 per person or $15 per couple.
Quickstart Program
Tuesday
,
7pm
The beginner group series is going strong! In this class series, you can learn the basics of Ballroom, Latin, and Swing dancing- have a blast learning with other dance enthusiasts!
Print a Flyer for your friends
October 11 – NIGHT CLUB 2 STEP
October 18 – TANGO
October 25 – CHA CHA
November 01 – SWING
Beginner Group Class
Monday
,
7pm
After taking part in the beginner series, this is a fabulous next step, as we cover one style for 4 weeks each month. Tentative Schedule as follows:
Beginning this
Monday October 03
, we will begin working through Nightclub 2 Step! This slow dance will have you dancing to songs like "Loving Touching Squeezing" by Journey. You will no longer need to resort to the old "Prom Sway" when you learn how to dance the Nightclub 2 Step.
October – NIGHTCLUB 2 STEP
November – QUICKSTEP
December – RUMBA 
Or Register online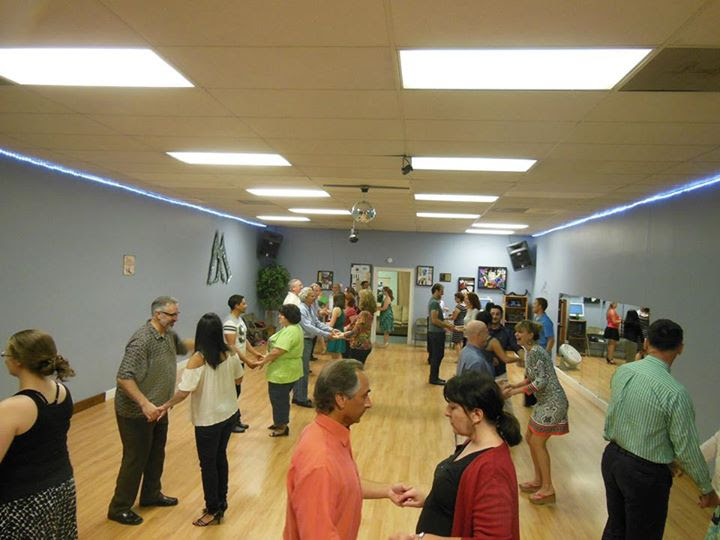 Intermediate Group Classes: NEW DANCE (Began 
September 13
)
Here, we delve into a new dance style for a full eight weeks, progressing each class into a short dance routine. With this this routine format, we can explore school figures and artistry, refreshing prior patterns and learning new ones as we go along. This class is $100 per person and requires completion of the Beginner Program or private lesson equivalent.
Every
Tuesday
at
8pm
for 8 weeks
Or Register now
Private Lessons
Any time! Any Dance! If you would like a more personalized dance experience, focusing on a special dance or personalized routine, schedule private dance lessons. All the best dancers agree, private lessons are the best way to quickly learn and perfect your dance steps. As the showcase draws near, my schedule will become more booked. Please reserve your time (or additional time) as soon as possible.

Next showcase is tentatively set for March 2017. Information available soon!
Mandeville Ballroom llc, 5150 Highway 22, suite A-5, Mandeville , LA 70471