Peer into the world of ballroom dancing at Mandeville Ballroom Dance Studio. This is your chance to plan for private lessons, group classes, dance parties, competitions and special events and workshops!
Inside the Studio: December 2016 Edition
Now that Baby Sariah has been born and Thanksgiving is over, things are getting back to normal. Well… Until Christmas comes, that is! We are in the last stretch of the year, and I'm super excited to say that the new studio is quickly beginning to feel like home- we have brand new beautiful mirrors, and We are going to have workshops, parties, and more classes!
News in Review:
December 3 – Free Wedding Dance Workshop
December 5 – New Beginner Rumba Series Begins
December 10 – Christmas Dance Party
December 25-27 – Closed
ALL THE TIME – Private Lessons
March 10, 2017 – Nine Year Anniversary Dance Showcase. Let's set up your dance dance number now- the sooner the better!
Free Wedding Dance Workshop
December 3rd, 8pm- This free workshop, for couples only, will give you the foundational skills to construct a nice slow dance for your wedding.
In this workshop, you will discover the most important details to add to your wedding dance.
You will learn to avoid the most common wedding dance pitfalls.
You will learn how to dip like a pro!
There are no strings attached to this workshop, but space is limited, so reserve yours now! (see the link) https://goo.gl/forms/z5XR4HF27JOozESG3
Quickstart Program

Tuesday

,

7pm
The beginner group series is going strong! In this class series, you can learn the basics of Ballroom, Latin, and Swing dancing- have a blast learning with other dance enthusiasts!
Print a Flyer for your friends
December 06 – SALSA
December 13 – NC2S
December 20 – TANGO
December 27 – CLOSED
Beginner Group Class

Monday

,

7pm
Discover the fun and flirty
Rumba
! Have a date night, or learn a new skill that will last a lifetime. The Rumba is a fantastic, beginner-friendly dance that you will find useful in many situations.
Our class begins from the very beginning of the dance and progresses through increasingly in-depth material. By the time you are finished with this class, you'll be able to dance socially in many situations, with almost any partner.The schedule is as follows:
December 5, 7pm- 7:55
December 12, 7pm- 8:30
December 19, 7pm- 8:30We will not meet December 26, so that class time will be added to the two prior classes.
$50 for the series.
Or Register online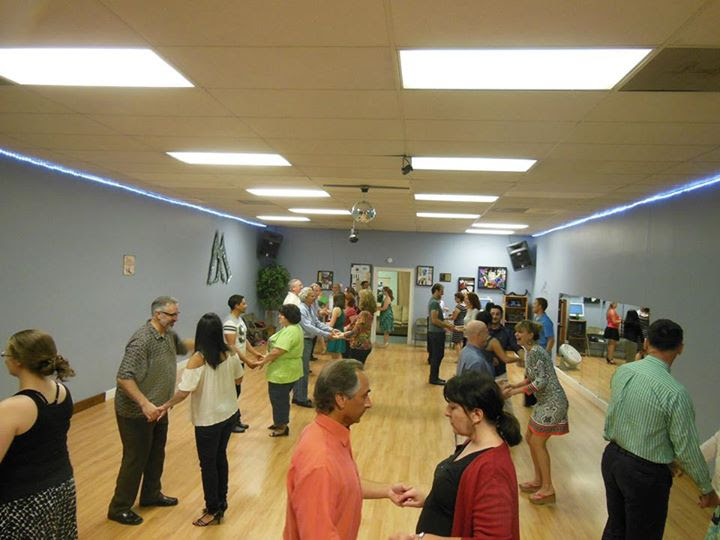 Intermediate Group Classes: CHA CHA  (BegAN 

November 8

)
Here, we delve into a new dance style for a full eight weeks, progressing each class into a short dance routine. With this this routine format, we can explore school figures and artistry, refreshing prior patterns and learning new ones as we go along. This class is $100 per person and requires completion of the Beginner Program or private lesson equivalent.
Every
Tuesday
at
8pm
for 8 weeks
Or Register now
Private Lessons
Any time! Any Dance! If you would like a more personalized dance experience, focusing on a special dance or personalized routine, schedule private dance lessons. All the best dancers agree, private lessons are the best way to quickly learn and perfect your dance steps. As the showcase draws near, my schedule will become more booked. Please reserve your time (or additional time) as soon as possible.
Gift certificates
 It's about time for Christmas. Forget perusing the store for something that's going to sit around taking up space and collecting dust. Give the gift of dance. It's so much more than just a set of amazing skills!

Our Ninth Anniversary Showcase is set for March 10, 2017. Information available soon!
Mandeville Ballroom llc, 5150 Highway 22, suite C-1, Mandeville , LA 70471